The Thomas Bacon Residency
and it how works for you -
---
Thomas Bacon is a world class musician. And when he comes to your city for a Residency, you get five days of world class music to enjoy - - such as:
But there is more to The Thomas Bacon Residency than great music. It is also about reaching out to people.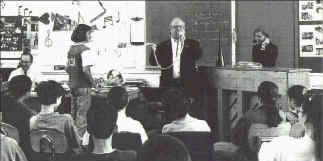 Playing the Hose Pipe for school children in Palo Alto, California
-- Kids of all ages enjoy Thomas Bacon's educational programs.
With a quick wit and cool props (a concerto played on the garden hose horn & give-away toy horns) Mr. Bacon sends people away with knowledge in their heads, smiles on their faces, and a toy in their pockets.
-- Mr. Bacon has "people skills" from years of experience in the music business.
He can help you drum up city support for your organization with special programs for the local media, civic & business groups, the community-at-large, or even for your board of directors.

Never sponsored a Residency before?
With the Thomas Bacon Residency Guide it's easy!
When you engage Thomas Bacon for a Residency, ask for a copy of The Thomas Bacon Residency Guide. It gives suggestions on how a Residency can:
draw the spotlight to your orchestra and its music to -
beef up attendance and...
usher in goodwill for the arts to -
help you raise money.
And The Guide helps you organize & publicize The Thomas Bacon Residency. User-friendly forms & materials make it easy:
Timetable and Checklist
How to plan & organize the Residency
Sample Programs
Ideas to feature Thomas Bacon in concert
Publicity Materials
Photos, bios, flyers....ready to use!
Press Release Forms
PSAs, announcements & news releases to alert
the public about the Residency
Everything you need to make a splash, so -
Reach out to your community with a Thomas Bacon Residency, you'll be glad you did!

Check out what other people have said.