Voices From Spoon River
The Golden Horn Plays the Music of Mark Schultz
Thomas Bacon & James Graber, horns and narration
Phillip Moll, piano
with soprano Yuko Takemichi
sample: Birdbrains (excerpt) from Beast Tales by Mark Schultz (302K, :38)
sample: Raptors (excerpt) by Mark Schultz (369K, :47)

Dragons in the Sky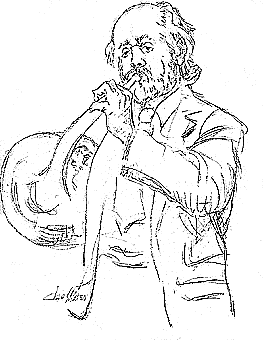 contemporary works for horn(s)
Thomas Bacon, horn
with hornists: William Caballero, Nancy Goodearl, James Graber, James Horrocks, Gregory Hustis, Julie Landsman, Erik Ralske, James Wilson; pianist Brian Connelly; percussionist Richard Brown; conductor Dan Welcher; in works by: Gottschalk, Leclaire, Pinkston, Schultz.
"The disc is filled with extraordinary playing, by Thomas Bacon and eight other hornists...seldom have horns conjured up so much excitement." --Fanfare Magazine
sample: Dragons in the Sky by Mark Schultz (367K, :47)
sample: Quartet by Dennis Leclaire (373K, :46) buy the sheet music

Nighthawks
(The Complete Music for Horn and Piano by Alec Wilder)
Thomas Bacon, horn
Phillip Moll, piano
sample: First Sonata (2nd mvt) (378K, :48)
sample: Third Sonata (3rd mvt) (449K, :57)
sample Four Easy Pieces - Waltz (448K, :57)

A Brassy Night at the Opera
David Hickman, trumpet
Thomas Bacon, horn
Sam Pilafian, tuba
with chamber orchestra in opera favorites.
sample: All'idea di qual metallo from Rossini's The Barber of Seville (332K :41)

A Cool Brassy Night at the North Pole
David Hickman, trumpet
Thomas Bacon, horn
Sam Pilafian, tuba
with the Chuck Mahronic Jazz Trio
sample: Christmas Carnival (338K, :43)
sample: Have Yourself a Merry Little Christmas (353K, :45)

The Flipside
original jazz works for horn
sample: Cooking with Bacon (208K, :26)
sample: Lorna Doin' (279K, :35)

Fascinating Rhythms
The St. Louis Brass Quintet
Favorite touring pieces from the SLBQ -- Music from the Renaissance, Plog's "Animal Ditties," deFalla "Spanish Folksongs," George Gershwin and more.
sample: Tourdion-Branles from "Pariser Tanzbuch" (333K, :42)
sample: Saltarello, Anonymous, 1550 (256K, :32)