Saint Louis Brass Quintet

"A wonderful ensemble"
Return to SLBQ Main Page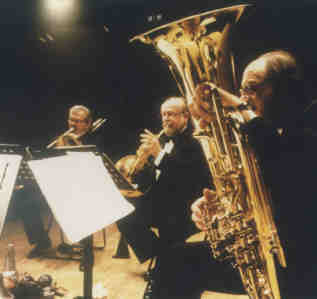 Saint Louis Brass Quintet
Performance Schedule
October, 2006 -- Kentucky, Illinois, Arkansas, Missouri. Iowa
October 4 -- 7:30 p.m. Olney, Illinois, in concert at Dr. John D. Stull Perf. Arts Center, Olney Central College, ticket info: 618-395-3155
October 5 -- 8:00 p.m. Berea, Kentucky, in concert at Phelps-Stokes Auditorium, free and open to public
October 6 -- travel day
October 7 -- 7:00 p.m. Searcy, Arkansas, in concert at Administration Auditorium, Harding University, tickets avail. at the door
October 8 -- 8:00 p.m. Fayetteville, Arkansas, in concert at Stella Boyle Smith Concert Hall, Fine Arts Building, University of Arkansas, info
October 9 -- 8:00 p.m. Maryville, Missouri, in concert at Charles Johnson Theater, Northwest Missouri State University,
October 10 -- 7:00 p.m. Glenwood, Iowa, in concert at Glenwood Middle School Auditorium, ticket info: 712-623-3135
October 11 -- off
October 12 -- 7:30 p.m. Forest City, Iowa, in concert at Immanuel Lutheran Church sponsored by Waldorf College, ticket info: 641-585-8177
February, 2007 -- Louisiana, Alabama, Georgia, South Carolina, North Carolina
February 7 -- 7:30 p.m. Lafayette, Louisiana, in concert at Angelle Hall Univ. of Louisiana at Lafayette, ticket info call: 337-482-6016
February 8 -- 7:30 p.m. Mobile, Alabama, in concert at Laidlaw Performing Arts Center Recital Hall, University of South Alabama. ticket info, call: 251-460-6136
February 9 -- 7:30 p.m. Jacksonville, Alabama, in concert at Mason Hall, Jacksonville State University
February 10 -- 7:30 p.m. Columbus, Georgia, in concert at Legacy Hall, River Center for the Performing Arts
February 11 -- 3 p.m. Columbia, South Carolina, in concert at Ebenezer Lutheran Church -- website, ticket info call: 803-765-9430
February 12 -- 7:30 p.m. Davidson, North Carolina, in concert at Tyler Tallman Hall, Sloan Music Center, ticket info: 704-894-2135
March - April, 2007 -- Missouri, Tennessee, Iowa, Illinois
March 26 -- St. Louis, Missouri, in-school concerts
March 27 -- 7:30 p.m. Clarksville, Tennessee, in concert at Austin Peay State University Concert Hall. Special clinic for high school brass players 5:30-6:30 before the concert. Ticket reservations and more info please call Prof. Ann Silverberg, 931-221-7644
March 28 -- school concerts
March 29 -- travel
March 30 -- Galesburg, Illinois
March 31 -- Paris, Tennessee
April 1 -- OPEN
April 2 -- OPEN
Here are a few of the other places that the Saint Louis Brass Quintet has performed.
Numbers indicate return visits.
The Saint Louis Brass Quintet, with percussionist Gray Barrier, on tour in Japan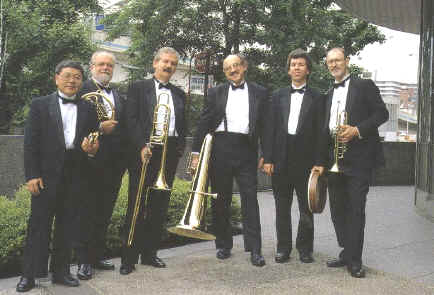 Abiko Shimin Kaikan, Tokyo, Japan
Ada Arts Council (2)
Alhambra Theatre, Hopkinsville, Kentucky
Alliance Arts Council
Andrew College
Angelo State University (2)
Arkansas College
Arkansas State University (4)
Arizona State University
Atkinson Arts Council
Augusta College (3)
Aurora University
Austin College (2)
Austin Peay State University
Baker University
Beckley Concert Association
Bella Vista Concerts (2)
Bemidji State University
Benedictine University (2)
Bethel College (2)
Blekinge International Brass Academy, SWEDEN
Bluffton College
Boiling Springs, NC
Bombay, INDIA
Bowlus Auditorium
Bradley University
Bridgeport Arts Council
Cameron University
Capital University
Centenary College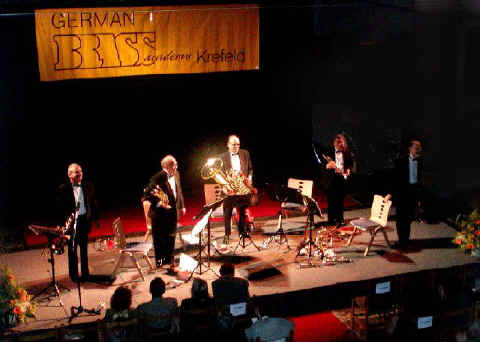 at the German Brass Academy in Krefeld, Germany
Central Methodist University (2)
Chadron State College
Charleston State University
Chickasha, OK (2)
Chillicothe Area Arts Council (3)
Chipola Junior College
Chisholm Trails Arts Council
Christ Church Cathedral (2)
Cincinnatti Conservatory of Music (2)
Clayton State College
Coffeeville Community College (3)
College of the School of the Ozarks (3)
Community Theatre
Concordia College (3)
Concordia Seminary (3)
Concordia Teacher's College
Coral Springs City Centre
Cornell College
Corsicana Fine Arts Association
Cottey College (2)
Cozad Arts Council
Crowder College (6)
Cuba Arts Council
Culver-Stockton College (4)
David Lipscomb College
Daytona Beach, FL
Dekalb, IL
Del Mar College (3)
Delta State University
DePauw University
Dexter Arts Council (4)
East Central Community College
East Texas State University
Eastern Kentucky University
Eastern Wyoming University (2)
Eliot Chapel
Emporia State University
Eureka Arts Council (2)
Eureka College
Evangel College (2)
Fermilab Arts Series
Fine Arts Association of Southeast Kentucky
Fine Arts Council
First Presbyterian Church - Kirkwood (2)
Flagler College
Florissant Civic Center (3)
Georgia Southern University
Gilmer Arts Council
Gordon, NE (2)
Grace Episcopal Church
Grand Island Community Concerts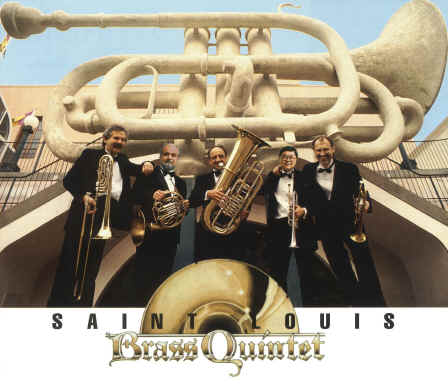 One of our coolest publicity shots, taken on tour in Galveston, Texas
1894 Grand Opera House (Galveston)
Grand Theatre
Green Bay Arts Council
Greenville, OH
Grundy County Friends of the Arts (2)
Hannibal Concert Association (3)
Harding University
Harrison Arts Council
Hastings College (2)
Hays State University
Hendrix College
Hermann Arts Council (2)
Hesston College (3)
Hilton Head, SC
Hino Cho Bunka Center, Yonago, Japan
Hot Springs Arts Council
Houston Chamber of Commerce
Houston Friends of Music (4)
Hutchins Memorial Auditorium
Idabel Arts Council
Illinois College
Illinois State University
Immanuel United Church of Christ
Indiana University
Indiana Wesleyan University (2)
Iowa Wesleyan College
Itami Aiphonic Hall, Itami City, Japan
Ivy & Stone Council for the Arts
Izumo Shimin Kaikan, Japan
Janesville Concert Association
Jefferson College
John A. Logan College
Kaikyo Messe Shimonoseki, Japan
Kansas State University (2)
Kennett Arts Council (2)
Kerrville Arts Council (2)
Kyoto Music High School, Japan
Ladysmith Arts Council
Lake Ozarks Arts Council
Lamar University (3)
Lebanon (MO) Concert Association
Lewis & Clark Community College
Limestone College
Lincolnton Citizens Center
Lindenwood College (3)
Little Dixie Concert Association
Louisiana College
Lyric Theatre
Malden Community Center
Marymount College
Mayville State University
McCook Arts Council
McCraney-Cottle Arts Council
McKendree College
Memorial Auditorium
Mendelssohn Club
Mid-America Nazarene College (3)
Millikin University
Mineral Area College (4)
Mississippi County Community College
Mississippi State University
Missouri Southern University (3)
Missouri Theatre
Missouri Valley College
Monmouth College
Municipal Auditorium
Municipal Auditorium - Moberly
Murray State University
National Conservatory of Art and Culture, Mexico City, Mexico
Neptune Beach, FL (2)
Neville Center for the Performing Arts
Newberry Opera House
North Central Arkansas Concert Association
North Dakota State University
North Dakota Museum of Art
North Gwinnett High School
North Iowa Community College
Northeast Oklahoma A & E College
Northwest Missouri State University (4)
Northwestern State University (2)
Norton, KS
Oakland University
Ogallala Arts Council
Ohio Wesleyan University
Oklahoma Baptist University (4)
Oklahoma State University
Opera House of Sandwich
Otterbein College
Ouachita Baptist University
Ozark Bible College (2)
Palacios School District
Paris Community Concerts
Pensacola Junior College
Perot Theatre (2)
Phillips University
Pittsbury State University
Ponca City Community Concerts
Port Charlotte Cultural Center
Pratt Community Concerts
The Princess Theatre
Rafael Mendez Brass Institute
Regional Arts Alliance
Rice University (2)
Ripon College (3)
Roane County Presenters
Rockhurst College
Royal Theatre
Saint Louis University
Sam Houston University
Sekio Bunka Hall, Hamada, Japan
Sedalia Symphony Orchestra (2)
Sheldon Auditorium (3)
Shenandoah Arts Council
Shepherd College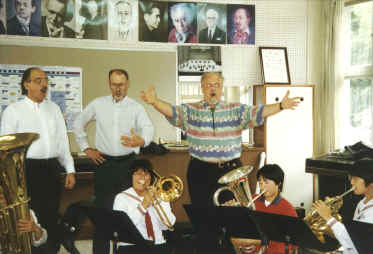 Coaching some young players in Japan
Shimonoseki Nishi High School, Japan
Shizuoka-ken Art Museum Hall, Japan
Sidney Arts Council
Sigourney Arts Council
Sikeston Arts Council
South Florida Community College
Southeast Missouri State University (3)
Southeastern Louisiana University (2)
Southeastern Oklahama State University
Southern Adventist University
Southern Arkansas University
Southwest Baptist College
Southwest Baptist University
Southwest Missouri State University (3)
Southwest Texas State University
Southwest Texas State University
Southwestern College (4)
Southwestern Oklahoma State University
Springdale, AR
St. Louis College of Pharmacy
St. Louis Conservatory of Music (2)
St. Paul's College
St. Paul's Lutheran Church (4)
St. Paul United Church of Christ
St. Paul United Church of Christ (3)
St. Philip's Episcopal Church (3)
State Theatre (2)
Stavanger, NORWAY
Stephen F. Austin University
Tahlequah, OK
Tarkio College
Taylorville Arts Council
Temple, TX
Temple Beth-El
Tennessee Tech University
Texas A & I University
Texas Lutheran College (2)
Texas State University
The Principia
Thorpe Opera House
Three Rivers College (4)
Tokoha Gakuen Junior High School, Shizuoka, Japan
Trinity Lutheran Church
Trinity United Methodist
Truman State University (6)
Tsuda Hall, Tokyo, Japan
Union University (2)
University of Science and Arts (Chickasha, OK)
University of Alabama
University of Arkansas
University of Arkansas - Beebe
University of Central Arkansas
University of Central Arkansas
University of Cincinnati
University of Evansville (2)
University of Kansas
University of Minnesota
University of Minnesota - Duluth
University of Missouri - Columbia (2)
University of Missouri - Kansas City
University of Missouri - Rolla
University of Missouri - St. Louis (6)
University of Nebraska
Umiversity of North Carolina
University of Northern Iowa
University of Oklahoma
University of South Carolina - Beaufort (2)
University of Tennessee (2)
University of the Ozarks
University of Tulsa (3)
University of Wisconsin - Stevens Point
Upper Iowa University
Valdosta State College
Valentine Arts Council (2)
Visual & Performing Arts School
Warfield Concerts
Washburn University (2)
Watson Terrace Christian Church (4)
Weatherford, OK
Webster University (2)
Wentzville School System
West Liberty State College
West Plains Civic Center
West Texas State University
West Virginia State College
West Virginia University - Parkersburg
West Virginia Wesleyan College
Western Carolina University (2)
Westminster College (5)
Wingate University
Wisconsin Lutheran College
Woodstock Opera House
Yazu High School, Tottori, Japan
... and many more


"Fascinating Rhythms"
Saint Louis Brass Quintet
Tour Favorites -- from Gershwin to Renaissance!
More info here
-- For more information --
Bookings for the
Saint Louis Brass Quintet
are handled by:
Primo Concerts
314-968-9027
800-689-9027